Kenneth C. Deacon Jr.
September 25, 1936 – August 25, 2018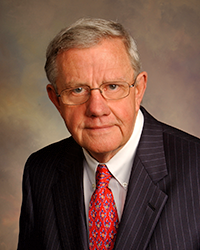 IN MEMORIAM
Ken practiced law in St. Petersburg for 52 years. He was with Harris, Barrett, Mann & Dew for 29 years. In 1999, he and Gail Moulds founded Deacon & Moulds. He was president of St. Petersburg Bar Association, served on the Board of Governors for The Florida Bar, served as a professor at Stetson College of Law, and was a member of ABOTA, along with numerous other positions in the legal community. Ken was dedicated to the law and to representing his clients vigorously and passionately, and loved and excelled at trial. His desire for the firm was to create a work family and environment that prioritized God, family, and then work, great trial work. He and Gail succeeded in creating exactly that in Deacon, Moulds & Stofer, and while his presence and experience will be missed, his legacy will continue as the firm remains committed to those priorities.